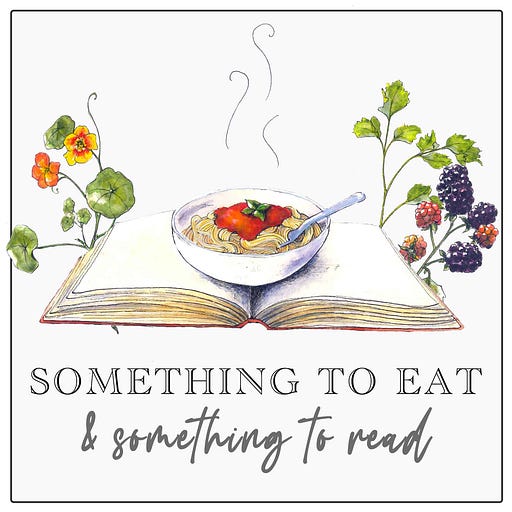 Dec 15, 2022 • 50M
Christmas special, 2022!
Twelve books, lots of cake and a live recording in the garden
Something to Eat and Something is a podcast about cooking and reading, and reading about cooking. Hosted by food writer Sophie Hansen and Bibliotherapist/Psychotherapist Germaine Leece; we believe that you should never go anywhere, or for too long, without something to eat and something to read. So every episode we're going to dive into a book we've both read and talk about the 'shape' it left on both of us. And because this is a podcast about reading about cooking; these books will all have a strong connection with food (of course). Part two will be the listener letter which we'll select then read out loud. Germaine will prescribe a book and I'll recommend a recipe. We hope you enjoy it as much as we enjoy putting it together for you, Sophie and Germaine x
Welcome to our Christmas special!
Also special as we recorded this episode in front of our first audience at the Henley Community Garden with the Gladesville Happy Hens. We hope you enjoy listening to us talk about our book advent (list below) while also prescribing something to eat and something to read for two letter writers. The list of books discussed is below and there will be more information about this and the recipes discussed in the Shownotes.
Thank you for listening to us this last year, and we look forward to returning with a Summer special in January. Until then, happy holidays to all.
Sophie & Germaine xx
We started our episode by offering a couple of sweet treats taken from books we have both loved and talked about this year.
Sophie and Nigel Slater's Christmas Cake
It was always going to be a Christmas cake for me. And always, my favourite recipe by Nigel Slater from the Christmas Chronicles (but also available here online).
Germaine and Ella Risbridger's Three Ingredient Brownies
I was intrigued to try such an easy recipe after we read The Year of Miracles: Recipes about Love, Grief and Growing Things in Season 2, Episode 4 so decided to try it. It is easy. And tasty! Simply Nutella, eggs and flour. Here is a similar recipe to Ella's if you haven't read her book.
Book List
---
Letter 1
Thank you for this! I am emerging from a marriage break up and I need some lightness and happiness in my life. Maybe a bit of courage too.
Germaine's book prescription
Maira Kalman's The Principles of Uncertainty is one of my favourite books that I return to whenever I am feeling in need of a reminder that life always contains lightness alongside the need for courage. Kalman is perhaps best known for her children's book illustrations and as a contributor to the New Yorker magazine, however this illustrated memoir is a different way of reflecting and understanding the meaning of her life. Her quirky illustrations, existential questions and melancholic observations are very powerful. I prescribe it as a completely different way of reading about life. Kalman walks the streets of New York and draws the people she sees. Her daily walks in Central Park with an old friend also impact on her sense of wellbeing. She reminisces about her childhood and the past. It's a visual journey through her mind!
Sophie's recipe
I think it has to be cake. Specifically, a sponge, though one with structure so it won't deflate on you or be finicky about travelling. Something you can cut and come again and keep in the fridge. Take to work to share, take to a morning tea with your friends. You can't not be cheered by a sponge. And you can take courage that this recipe will work! As Nigel Slater says in Christmas Chronicles, "there was something about the way my mother would put a cake on the table that made me feel all was well. Safe. Secure. Unshakeable'
Here's my sponge cake recipe, please try it, fill it with jam, cream, curd, love, whatever you have to hand!
---
Letter 2
I am going 'home' for Christmas for a number of reasons. It may well be our last - or only-  'family' holiday with all 6 of us that we will remember, as my eldest is 19 and will be moving on with his life - a fact we celebrate and mourn, and my youngest is 11, and therefore too young to remember our trips before the Covid years.  Included in the trip are 2 weeks in the UK to have our first English Christmas with my family, and our first one all together in 7 years. It is always a little bittersweet without my Dad, whose presence is long missed, but it is definitely a time for celebration.

What will make the trip a little more interesting, and is making my mother slightly apprehensive, is a history of tension between my brother and sister - I refuse to get sucked in to any drama and can smooth almost any situation - but I want her to feel excitement and eagerness about spending this time together, so do you have a suggestion for a book that celebrates the joy of family reconnection, or something that will bring light to dark winter evenings? Something fun, but real would be grand. And she is always fond of a murder.

In terms of asking for something to cook, I am being held responsible for an Australian style brunch - limited by available ingredients so sadly no mango unless I smuggle them in (which I may), and need something sweet, but light to finish the traditional croissants and smoked salmon, and that won't compete with pavlova and Christmas pudding that will be served after late lunch. Also, my mother loathes cream and milk, unless cooked into a cheese sauce, so yoghurt is out.

Hope that's not too prescriptive? I love listening to you both, and hearing your discussions.
Sophie's recipe
What about a warm Christmas crumble? In a medium-sized saucepan, mix together about 2 cups frozen (or fresh berries) with about 2 cups rhubarb, apple or stonefruit (depending on season and taste. Add 1/3 cup sugar, 1 tsp vanilla paste and the juice of one orange or lemon and cook on low heat for about 10 minutes or until the fruit is soft. Transfer to a bowl and pop in the fridge to cool or if cooking the crumble straight away, tip into an oven-proof dish.
For the crumble topping, in a medium bowl, combine 50g unsalted butter, cold and cubed, 1/2 tsp cinnamon, 1 tsp vanilla paste, 1/2 cup almond meal, 1/4 cup brown sugar, 1/4 cup rolled oats, 1/4 cup shredded coconut and 200g marzipan. Work everything together with your fingers and crumble together.
Preheat oven to 180C and crumble the topping over the layer of fruit and cook for about 20-30 minutes or until the topping is golden. Serve hot with cream, yogurt or ice cream.
Germaine's book
I rose to the challenge with this letter and managed to find a book that is about family and reconnection, with humour and depth. Also, there is a missing person! I'll let you discover if it's a murder or just a side mystery…
When God Was A Rabbit by Sarah Winman is a family story about bad things happening to good people and good things happening to good people! This is the poignant tale of Ellie and her family from her childhood in the 1960s through to her adulthood in the early 2000s. There is a cast of quirky characters, all damaged and all loveable who feel very real. Winman also writes beautifully about sibling bonds, "I am here but I am not yours". While the characters (like families) frustrate, make you laugh out loud and also cry, ultimately, they express the love and hope within us all, no matter what has happened.
---
---
Thank you
Our thanks to Emma and her volunteers from the Gladesville Happy Hens for organising our event and for being so generous with her time and energy.
As always, thanks to Kristy Reading for producing every episode of our podcast!
---
We acknowledge that the land on which we work and live is the traditional land of the Wiradjuri Nation and Wallumedegal people. These people are the Traditional Custodians of this land and form part of the wider Aboriginal nation known as the Eora Nation. We pay our respect to Elders past, present and emerging and extend that respect to all First Nations people.